Dr. Buttar Advanced Medicine, Aspirin Away, Alternatives to Warfarin, Summertime Hazards, Polycystic Ovary Disease, Schizophrenic Chemotherapy on The Robert Scott Bell Show July 25, 2011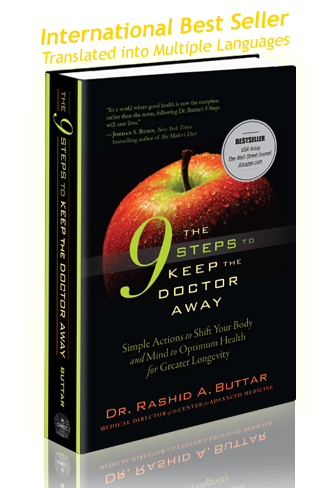 Does an aspirin a day really keep the doctor away – or is it just another drug for which the medical profession does not even know its mechanism of action?  It is time for Advanced Medicine Monday with Dr. Rashid Buttar! As we reveal even more of the medical misconceptions never revealed in the old media. How can you deal with blood platelet aggregation (clotting) without resorting to rat poison (warfarin). Dr. Buttar and RSB will reveal some simple, safe and truly natural options. Iraq and Afghanistan war veterans are returning home to America with more that PTSD. What can we do to help them recover from bronchiolitis? Also, we'll discuss more issues of health freedom as they relate to the current political climate leading into the 2012 elections. Will there be a change in consciousness that restores the freedom to heal?
Remember, The 9 Steps to Keep the Doctor Away http://www.the9steps.com/1358 (if you buy the book, you can get a DVD for an incredible discount!) and Facts on Toxicity (choose the one on cancer) http://www.factsontoxicity.com/1358 and www.MedicalRewind.com
According to FOX News, there are 11 Summertime Hazards about which you need to be aware. RSB covers them and uncovers the misinformation hidden in their suggestions to reveal a more prudent course for summer fun… What will RSB say about…?
1.     Dehydration and overhydration
2.     Sunburn
3.     Skin problems
4.     Overheating
5.     Insect bites
6.     Eye damage
7.     Germs and infections from public places
8.     Hay fever
9.     Respiratory problems
10. Poison ivy
11. Swimmer's ear
http://www.foxnews.com/health/2011/07/24/11-summertime-health-hazards/?utm_source=feedburner&utm_medium=feed&utm_campaign=Feed%3A+foxnews%2Fhealth+%28Internal+-+Health+-+Text%29
Diabetes Drug At Age 8 Could Shield Girls From Infertility "Girls who were born with a very low birth weight and begin developing pubic hair at a very early age are at high risk of developing PCOS. So Ibáñez and his colleagues recruited 38 girls who fit that profile." Or could it be that vaccines and antibiotics disrupted their endocrine system? How many more excuses do doctors need to drug children for symptoms that are most certainly not evidence of a lack of any particular drug, including Metformin?
http://www.foxnews.com/health/2011/07/22/diabetes-drug-at-age-8-could-shield-girls-from-infertility/#ixzz1T2RKDoZ1
How much aspirin do you really need? Is it true that if you stop taking it on a daily basis, that you will increase your risk of a heart attack? http://www.healthnews.com/en/articles/1JkPdgYjr2tx8zBPHlhCNL/Stopping-Daily-Aspirin-Regimen-Linked-to-Increased-Risk-of-Heart-Attack/?utm_source=feedburner&utm_medium=feed&utm_campaign=Feed:%20us/healthnews%20%28HealthNews%20Articles%29&pageNr=2#
How many uses are there for chemotherapy drugs? Apparently not enough, because scientists are now claiming that it's also good for schizophrenia. RSB explains what this really means. http://www.medicalnewstoday.com/releases/231495.php
There's some good news out there as well! Apparently, Americans are flocking to alternative medicine. What kind of desperate attempts can we expect from Big Pharma, Big Government and Big Media to throw cold chemotherapeutic water on the growing movement back to natural therapies? http://www.webmd.com/balance/news/20110722/americans-are-flocking-to-alternative-therapies?src=RSS_PUBLIC
Maybe its time for some Food Security? Be Prepared, Not Scared! It's on sale as 50% off for a short time. Get it now! http://premium.naturalnews.tv/Be_Prepared_Food_Security.htm
Thank you to everyone calling 1-866-939-BELL (2355). Please keep your comments and questions coming 24/7.
Peace-of-Mind Homeopathic medicine kit, including remedies for radiation exposure! Call 1-800-543-3245. Now available for $89.99 for RSB Show listeners: http://www.kingbio.com/store/product.php?productid=16375&cat=0&page=1
or here: http://www.talkstreamlive.com/talk_radio/robert_scott_bell.stream
In case you missed RSB's July 24 Sunday broadcast on GMO food bans, animal-human DNA hybrids, TSA abuse and the most dangerous places on planet earth, click the link to listen here: http://www.gcnlive.com/programs/robertScottBell/.
Sign up for email alerts here: www.NaturalNews.com/RobertScottBell
Previous episodes of the Robert Scott Bell Show: http://www.naturalnewsradio.com/Archive-RobertScottBell.asp