Outside the Box w/ Ty Bollinger, Villainous Vaccines, Lisa Joyce Goes Thinking Moms' Revolution, Iatrogenic Autism, Homeopathic Nosodes & More!
The Robert Scott Bell Show January 16, 2013 Did you miss it? Click here to listen now.
As much as I would like to go a broadcast without mentioning the flu, the flu shot propaganda continues to reach absurd new levels with each passing day. The good news is that some doctors are catching on – maybe they're listening to The RSB Show! Rather than a viral outbreak, could the flu be caused by what you did in December? Could it be the Christmas flu? The Law of the Terrain beats the Germ Theory no matter how many times medical pundits in the pharmaceutically conflicted propagandistic press scream "get your flu shots!" Even as some awaken to the vaccine nightmare, too many are still paralyzed with fear – not knowing what to do once they abandon the vaccination religion. Release the fear; it's time to detoxify from the messages of disempowerment delivered by CNN, FOX, MSNBC, ABC, CBS and other messengers of allopathic monopoly medicine. Get ready to go Outside the Box with Ty Bollinger and RSB!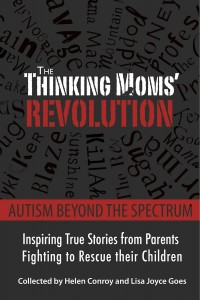 First up, Lisa Joyce Goes (The Rev) and Vice President of Public Relations for The Thinking Moms' Revolution discusses her son's descent into autism after vaccination.  She'll talk about the evolution of the philosophical movement that is spreading ever faster across the nation and how The Thinking Moms hope to spare others from the ravages of iatrogenic (doctor-caused) autism and environmental auto-immune illness.  She'll cover the role of modern medicine in what happened to her child and how his illness could have been avoided if only pediatricians and family practitioners were armed with the knowledge and asked
the right questions at the time of vaccination. Lisa is also a contributing editor to Age of Autism and a National Executive Board Member of the Canary Party.   She is mother to three children and works with her husband Dave pushing for healthcare freedom. Lisa, RSB, Dr. Andrew Wakefield and many others will be at the Autism One conference in Chicago, Illinois, May 22-26, 2013.
It's time for Outside the Box Wednesday with Ty Bollinger! When too many people in a developed country catch on to the scam and danger of vaccines, what do you do? Well, if you are a vaccine manufacturer, you take your vaccines to India and frighten the people there. We'll discuss the disaster of the Rotavirus vaccine and the absence of medical common sense when dealing with childhood diarrheal diseases. Who controls the definitions of words used in the media? Since when is expressing concern for someone who wants to heave her breasts removed needlessly considered hateful. Ty and RSB will provide another reason why you may want to unplug from the mainstream news. What do you say to someone who wants more money for Medicare? Perhaps we could ask them to return the One Billion dollars spent on mammograms? Why do increasing numbers of Hispanics not trust
medical doctors? Ty will share why they have a number of darn good reasons – and so do you! What would you say about a meningitis vaccine that causes paralysis? Big Pharma says nothing because it's only in Africa. Do they not know that unvaccinated children are much healthier than those who are vaccinated? We'll discuss the story that medical reporters cannot – without losing their jobs. If you have to undergo surgery, what might you not want your surgeon to be? It's today's Moment of Duh! Finally, those who profit from its administration are downplaying the downside of chemotherapy. Surprised? Probably not but that's why you listen to Ty and RSB go Outside the Box each Wednesday! Remember to plug into "58 Holistic Health Nuggets For A Healthy Family", too. Ty's websites include www.CancerTruth.net and www.SurvivalHerbs.com. Would you like to "Work With your Doctor" – Ty's new book with Dr. Michael Farley at
http://medicaldreamteam.com/ is on sale! Special thanks to Better Way Health and their Beta 1,3D Glucan for making this possible! From now until next Wednesday, January 23rd, you can get the same exclusive Black Friday Deal; $49.95 on a Bottle of Transfer Point's Beta‐1, 3D Glucan. That's an incredible $20 off!
Come see RSB, Liam and many others at The Health Freedom Expo, March 1-3, 2013 in Long Beach, California!

What would you like to hear from The Robert Scott Bell Show in 2013? Call us at 1-866-939-BELL (2355) and let your voice be heard!
More about the Thinking Moms' Revolution:
  The Thinking Moms Revolution is a group of 23 moms and 1 dad who came together to find answers for their children's complex medical issues.
  With over 50% of children suffering chronic illness in America they realized they were not as rare as they were lead to believe. They were stunned at the medical community's lack of curiosity about the very real medical problems that were compromising their children's health.
  Together, with the help of researchers, scientists, informed physicians, qualified experts and each other, they found answers and healing for their children's chronic and debilitating environmental illnesses.
  From Malaysia to Montana to Montreal the healing began!  They found answers, real help and hope for their children as they embarked on a fearless journey to uncover the true cause of their kids' illnesses.
  During the process of discovery they became a tight-knit family determined to prevent others from suffering as their children have. Join this diverse group of thinkers on a journey that will change your perspective on preventative healthcare forever
Need it faster? Want to know as soon as content is added? Want the daily show notes? Click Here to subscribe to The Robert Scott Bell Show content feed!
Question of the day:  Please give more detailed information on how to use, the best product for, and the application of silver; living detox, and immunization shot for children. I also enjoyed and learned from your videos; please give more information. ~ Alaric Smith
More news:
Have ER doctors in Chicago been listening to The RSB Show? Dr. David Zich of Northwestern Memorial Hospital and an assistant professor of medicine at Feinberg School of Medicine at Northwestern University says that Christmas may have contributed to this flu outbreak.
White House releases letters from little kids calling for gun control. What about the kids who were killed precisely because there was no one at Sandy Hook Elementary armed and capable of defending them?
"Breaking: New York creates a psychiatric police state" by Jon Rappoport
Big Pharma using fear to market Rotavirus vaccines in India?
Miss America contestant gets hate mail over mastectomy plans
Survey: Vaccinated children five times more prone to disease than unvaccinated children
Medicare spends $1 billion on mammograms
Many Hispanics Are Unwilling To Participate In Cancer Screenings, Fear Being A 'Guinea Pig'
Minimum of 40 Children Paralyzed After New Meningitis Vaccine
Survey: Vaccinated children five times more prone to disease than unvaccinated children
Montpelier school board approves carrying of handguns by custodial staff
MOMENT OF DUH! — Hungover Surgeons Make More Mistakes!
Cancer studies often downplay chemo side effects
Stomach-Pumping Machine Makes Calories Disappear – ABC News ("Aspire Assist") – Anorexia machine anyone??
Come to Phoenix to see Dr. Rashid Buttar and Ty Bollinger for the next Advanced Medicine Seminar! See you in Phoenix, January 25-26, 2013! http://www.advancedmedicineseminars.com/
Come see RSB, Liam Scheff and many others at The Health Freedom Expo in Long Beach, California March 1-3, 2013!
RSB and Vaishali hosting a seminar together? Yes! March 23 – 24, 2013 on the Queen Mary in Long Beach, California! http://www.businessmuse.com/newsletters/Alive_Healthy.html
Vaccines: Armed and Dangerous – All the Things They Don't Want You to Hear! Co-created by Jon Rappoport and RSB – Save $20 right now! http://programs.webseed.com/Vaccines_Armed_and_Dangerous.htm
Listen live here 12Noon-2PM EST: http://www.naturalnewsradio.com/ or here: http://www.talkstreamlive.com/talk_radio/robert_scott_bell.stream
In case you missed my RSB's Sunday broadcast (1/13/13) on GCN http://www.robertscottbell.com/?p=10231 Flu Shot Fiascos, Healing w/ Stephen Heuer, Longevity Lacking because US is Slacking, Artificially Sweet Depression, Painkilling Abuse, Arming Custodians and More! You can download the archive here: http://www.gcnlive.com/programs/robertScottBell/archives.php Also, here is the iTunes feed for Sunday RSB Show broadcasts: https://itunes.apple.com/us/podcast/gcn-robert-scott-bell-show/id392503709 Sign up for email alerts here.
Previous episodes of the Robert Scott Bell Show: http://www.naturalnewsradio.com/Archive-RobertScottBell.asp
Special thanks to Better Way Health for making Outside the Box Wednesdays with Ty Bollinger possible! This very high end product  is rarely available at any price lower than its retail $69.95. Go ahead and do your research, you will find this is not just some cheap supplement available at your local vitamin store. From now until next Wednesday, January 23rd, you can get the same exclusive Black Friday Deal; $49.95 on a Bottle of Transfer Point's Beta‐1, 3D Glucan. Call 1-800-746-7640 today!
RSB's favorite Whey Protein is One World Whey! Truly nondenatured and no casein! Enhance glutathione production like no other food can! 1-888-988-3325. http://www.sgn80.com/one-world-whey
Choose To Be Healthy for all of your whole food supplements, including GTF, Chromium, Selenium and Dr. Ohhira's Probiotics! http://choosetobehealthy.com/ 1-866-424-1077.
Which Rife Frequency Machine does RSB endorse? The BCX Ultra! http://www.bioelectricsforhealth.com/ 1-800-936-6240
Limited time offer! Family Wellness kit, including remedies for vaccine injury! Call 1-800-543-3245. Available now for only $89.99 (price includes free shipping) for RSB Show listeners: http://www.kingbio.com/store/product.php?productid=16375&cat=0&page=1
What's the only kind of silver I take? It's now available in the Natural News Store! and http://sovereignsilver.com/ and http://store.naturalnews.com/Sovereign-Silver-Bio-Active-Silver-Hydrosol–10-ppm-16-oz_p_156.html and http://store.naturalnews.com/Sovereign-Silver-Silver-First-Aid-Gel-2-oz_p_157.html
Life Change Tea anyone? http://www.getthetea.com/ 1-928-308-0408 Structured water? http://structuredwatertechnologies.com/ and http://structuredwatertechnologies.com/proof.htm