Germs on planes, Airports are yucky, Elon Musk cannabis, Dr. Frank King, Healing Revolution, Attacks on Homeopathy, Nose job opioids, Brian Hooker PhD, Roundup on glyphosate, Colin Kaepernick Nike and MORE!
Sep 7, 2018 7-9PM ET
Friday on The Robert Scott Bell Show:
This Is Just PLANE Weird…
12 People on Flights to Philadelphia Have Flu-Like Symptoms Twelve passengers on international flights that landed at Philadelphia International Airport on Thursday are showing flu-like symptoms, airport officials said. A total of about 250 passengers, plus crew members, aboard two American Airlines flights — Flight 755 from Paris, and Flight 717 from Munich — were held for medical review on Thursday, a Philadelphia International Airport spokesperson said in a statement provided to TIME. Except the 12 passengers experiencing flu-like symptoms, everyone was cleared for release, according to the statement. Benjamin Haynes, a spokesperson for the Centers for Disease Control and Prevention, confirmed to TIME that the CDC was involved in evaluating passengers. "CDC is aware of two American Airlines flights from Paris and Germany that arrived at PHL airport this afternoon with ill passengers on board," Haynes said in a statement. "CDC and Philadelphia public health officers worked with EMS and [Customs and Border Protection] officials to evaluate and test the ill passengers for influenza and other respiratory illnesses. Twelve passengers from the two flights reported [a] sore throat and cough; none were identified with fever. None of the passengers are severely ill, and they will be released and informed of test results in 24 hours."
Southwest Airlines passengers on 4 Texas flights possibly exposed to measles Southwest Airlines says passengers on four flights between Dallas, Houston and Harlingen may have been exposed to the measles. The airline says it has contacted travelers with help from the CDC who shared a plane two weeks ago with a passenger later diagnosed with the highly contagious virus. The Houston Health Department said Thursday night that it is assisting in the investigation into the measles case. The health department says the patient is from north Texas, and that he or she did not leave the airport or visit any airport restaurants or venues. The patient apparently stayed in a waiting area for about an hour on each of the days listed above. Dr. David Persse says people at the airport are at a much lower risk of exposure for the virus than those passengers who shared the plane with this patient. "That's why our focus is on directly contacting the passengers to notify them of the risk, inquire about their vaccination status, and make sure they monitor for symptoms and seek medical attention if necessary," Persse said.
This part of an airport carries more germs than toilets, new study says There's no way around it. You'll have to use the airport's dirtiest spot at some point during your travel. Airport security plastic trays rank as the most germ-filled spot in an airport, according to a new study from a team of researchers at the University of Nottingham and the Finnish National Institute for Health and Welfare. The study, which was published in the BMC Infectious Diseases journal, said the trays could be cleaned more often to prevent the spread of diseases. The research team monitored germ levels across a variety of surfaces inside the airport during the winter of 2016. They found that places such as shop payment terminals, staircase rails, passport checking counters, children's play areas and even the air itself were full of viruses, according to The New York Times. "The plastic trays — used at airport checkpoints around the globe and touched by millions of passengers as they drop shoes, laptops, luggage and other items into them to clear X-ray scanners — have been found to harbor a variety of germs, including the ones responsible for the common cold," the Times reported.
Cannabis Update!
Elon Musk smokes a JOINT live on Joe Rogan Experience podcast Tesla shares have plunged this morning after Elon Musk smoked marijuana and drank whiskey while discussing everything from drugs to the possibility we're all living in a simulation, in a rambling two-and-a-half hour podcast appearance which was live-streamed on YouTube. The 47-year-old billionaire went on the Joe Rogan Experience late on Thursday night and accepted a joint from the host –  after a rambling conversation that also took in the dangers of AI and the possibility China is spying on US citizens through their phones. Hours later, the company's chief accounting officer Dave Morton resigned citing 'public attention' on the company. Meanwhile, shares plummeted to nine per cent this morning, wiping $4.3 billion off the company's value. By close of trading they had slightly recovered to a 6.5 per cent drop, reducing the company's value by $3.1bn.
The Healing Revolution with Dr. Frank King!  
The Food, Drug and Cosmetic Act of 1938 passed in 1939 and grandfathered the Homeopathic Pharmacopeia of the United States into law. This means that homeopathic remedies are regulated as drugs by the FDA and are required to have indications for use on their label. The growing popularity of natural medicine has put a small dent in allopathic pharmaceutical sales over the past few decades making Big Pharma a bit nervous for their future. Although homeopathic sales are a very small fraction of drug expenditures in the United States, any threat to the pharmaceutical monopoly over treatment of disease is taken very seriously.
How best to counter such a sales threat? The drug industry does not like competition and since the Flexner Report of 1910, they found that using the power of government to squash competition is much easier than convincing consumers in a free market that allopathic drugs are superior to homeopathic ones. Enter the FDA. The Food and Drug Administration, just like most regulatory agencies of the federal government, has been captured by the industry it deigns to regulate. Instead of protecting the public from dangerous drugs and adulterated food, it attacks the safest form of medicine on planet earth: homeopathy.
Dr. Frank King is back with the Healing Revolution to discuss a very serious current threat against Dr. Kings homeopathic remedies. Have there been any complaints against King Bio medicines? No. Has anyone been harmed? No. We'll get to the bottom of this regulatory nightmare together. Stay tuned and listen for what you can do to support the Healing Revolution!
Dr. King Has A Free Gift For You!
How You Can Manage & Monitor Your Adrenal & Thyroid Health! Learn the simple tools to monitor your adrenal and thyroid glands. Even more importantly, learn the tips that will help you increase your energy, naturally! Click HERE!
Tap Into (your) Potential (TIP) – it's the first essential among the 8 essentials for healthy life in Dr.
King's guidebook, The Healing Revolution. Learn the 8 Essentials for Life in Dr. King's book. The eighth Essential is called Hands On Techniques, or H.O.T.s for short. These are just as essential in helping you take care of your body as healthy food, water, and fitness. Some of these techniques are demonstrated in videos at drkings.com. Four free gifts are yours when you sign up for the newsletter, too! Remember to counteract the flu shot propaganda with the Multi-Strain Flu Relief formula.  Join the Healing Revolution by reading Dr. King's book about the 8 Essentials to life and health!
Optimal health is irresistible. As you implement the Eight Essentials in your life, you will awaken an inner joy. The more joy you feel, the more people will want to "joy-n" you on your journey!
More Opioid Crisis Nonsense…
Study: Surgeons overprescribing opioids after nose jobs Many patients who have nose surgery use far fewer opioid painkillers than they're given, evidence that doctors are overprescribing the highly addictive drugs, a new study suggests. For the study, researchers reviewed 173 nose surgery (rhinoplasty) cases performed at Massachusetts Eye and Ear Infirmary. Of those, 168 patients were prescribed opioids (such as OxyContin) along with acetaminophen (Tylenol), at an average of 28 opioid pills per patient. Only two patients refilled their opioid prescriptions, and 11 percent did not fill their initial prescription, the study authors said. "When we looked at the number of patients who needed refills, we found this near-negligible number," corresponding author Dr. David Shaye said in a hospital news release. Shaye is a facial plastic and reconstructive surgeon at Mass Eye and Ear in Boston.
Richard Sackler, member of clan behind OxyContin, has patent for opioid treatment A member of the family that owns Purdue Pharma — which is being sued by more than 1,000 jurisdictions for its alleged role in seeding the opioid crisis with its pain medication OxyContin — has been awarded a patentfor a treatment for opioid use disorder. Dr. Richard Sackler is listed as one of six inventors on the patent, which was issued in January and was first reported Friday by the Financial Times. Critics told the FT that they were disturbed that the patent could enable Sackler to benefit financially from the addiction crisis that his family's company is accused of fueling. Purdue has denied the allegations in the lawsuits, which also target a range of other opioid painkiller manufacturers and distributors.
---
Hour 2 – Special Guest Brian Hooker PhD
Dr. Hooker is the father of a vaccine-injured child, and is a Ph.D. researcher. He has fought against the CDC for more than 14 years, using the Freedom of Information Act to try and gather as much data as he could from the studies that the CDC has published that claim there is no link between vaccines and autism. He has submitted much of the results of his own internal investigation of the CDC data on vaccines and autism to Congress. Congressman Bill Posey has assisted him in forcing the CDC to comply with many of these requests.
Rounding up Glyphosate The pesticide glyphosate, also known by its trade name Round-Up®, has been in the news recently due to a lawsuit filed against agriculture giant Monsanto by a school district employee who developed non-Hodgkin's lymphoma while using glyphosate weed killer as a part of his work. The plaintiff in the case, DeWayne Johnson, was recently awarded $289.2 million in damages from Monsanto, including a $250 million penalty against the company for punitive damages. This is a huge victory for the plaintiff and his legal team, which included Robert F. Kennedy, Jr., who has contributed much to the debate surrounding environmental causes of chronic illness and neurodevelopmental disorders, including autism. An estimated additional 4000 cases have been filed in U.S. courts claiming that exposure to glyphosate has caused non-Hodgkin's lymphoma.
Glyphosate, the active ingredient in the weed killer Round-Up®, is the most widely produced herbicide in the world today.
Glyphosate, the active ingredient in the weed killer Round-Up®, is the most widely produced herbicide in the world today. The compound has an analogous structure to the amino acid glycine, which is a common building block for large, physiologically relevant proteins in nature. Glyphosate was originally purported for use as an herbicide because it inhibits growth and metabolism by disrupting biochemical pathways in plants – pathways that do not exist in humans or other animals. For that reason, scientists hypothesized that it would not be toxic to humans, but instead would kill plants and plants alone.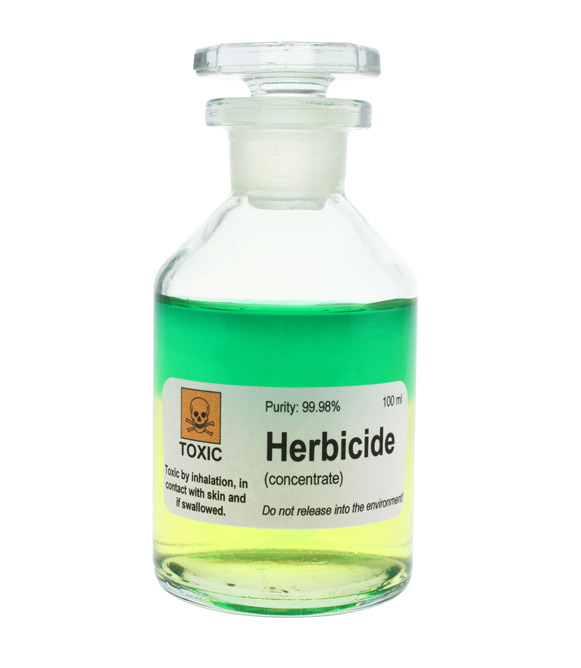 The key feature that enhanced the commercial appeal of glyphosate was the advent of genetically modified crop plants, such as Round-Up Ready® corn and soybeans, which were introduced in the U.S. in 1996. These crops are engineered to resist the effects of glyphosate and are able to grow in its presence. In this manner, glyphosate can be sprayed liberally on these crops for weed control without damaging the crop itself.
Today, glyphosate-tolerant crops include varieties of corn, soybeans, cotton, canola, sugar beet and alfalfa, among others. Over 90% of all soybeans and over 70% of all corn grown in the U.S. are genetically modified, with the majority of these plants specifically possessing glyphosate tolerance. These crops may be treated with much higher levels of glyphosate than those that predate the introduction of genetically modified organisms (GMOs) and consequently, people are being exposed to this herbicide through the food supply. Other non-GMO crops such as oats and wheat are also sprayed with glyphosate to cause the plants to dry faster for harvesting.
Weekend Is Football Time!
Eagles' Winning NFL Kickoff Game Falls To 9-Year Viewership Low The final numbers of the first official game of the NFL's new season are in and the league and NBC looked to have been drenched by more than the rain that delayed the Eagles and Atlanta Falcons match-up in Philadelphia last night. Snagging 19 million viewers on the Comcast-owned network, the late starting Eagles winning kickoff game fell 13% in broadcast audience from last year's NFL opener with the New England Patriots and the victorious Kansas City Chiefs. That's another year of straight double digit decline for the NFL and NBC. With last years opener holding the previous record, the 2018 battle in Philly is also the worst any kickoff game has done since 2009. In fast affiliates, the season opener drew a 6.6/27 among adults 18-49. A drop of 14% from the final demo numbers of the September 7, 2017 game.
---
---
Remember Friends, The Power to Heal is Yours!
---
More upcoming RSB events:
---