Losing weight, bikini bods for summer! Iron Autism, copper, Morley Robbins, magnesium! Joni Abbott, Life of Liam Celebration, Neuro-Biophysics!
June 23, 2017, 7-9PM EDT
Friday on The Robert Scott Bell Show: 
Freshman Friday: Where Captain Morgen asks RSB the Freshman questions. Today's topic? Skin-scrunching and calorie counting – what does your body really need?
After weight loss or pregnancy, many people have loose skin…is there anything we can do about? Once RSB finishes bragging about his finely-aged physic… he may tell us how silica can help our skin elasticity, how oxidization plays a role…and more!
Special Guest: Morley Robbins… Magnesium Man! 
Check out the Magnesium Advocacy group at GotMag.com
RSB Show listeners are quite familiar with the sentiment: "All is NOT as it seems…"
This is certainly true of the fields of nutrition & healing. And what you have been exploring this week is the importance of "wholefood sources of nutrients," esp. a powerhouse complex like Vitamin-C. There is NO more important nutrient to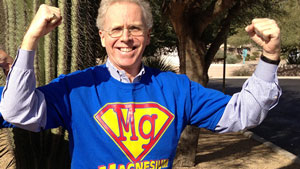 manage the ravaging impact of the Pro-Oxidant metal, Iron, that REAL Vitamin-C that has the Tyrosinase enzyme at its core, and within that amazing enzyme are 4 Copper atoms that enable the body to produce the MASTER Anti-Oxidant enzyme, Ferroxidase, to REGULATE the Iron in our body.
OK, so that's a lot of new words, but there's no more important mineral than Copper to manage Iron, and there's no more important mineral than Magnesium to keep these two transition metals in proper balance. There is a reason why Magnesium is the "Conductor of the Cellular Orchestra of Minerals." We will delve deeper into those issues today as we set the stage for future explorations about the dynamic interplay of these three key minerals to keep us healthy…
---
Hour 2 ~ Homegrown Health's Joni Abbott!
Freshman Friday part Deaux!
Sooo, about the extra weight. Why are some people still counting calories?  What else might our bodies be lacking?  In a not-so-shocking turn of events, RSB recommends Chromium. Is it the cure-all solution?
Special Guest: Joni Abbott! 
Liam Scheff's Life Party
Friday, July 7 from 10 AM – 12 PM PDT
Self-Realization Fellowship Lake Shrine
17190 W Sunset Blvd, Pacific Palisades, California 90272
https://www.facebook.com/events/239596799851923/
Joni is now working full time in the health industry and working radio part time. She will explain what Neuro Biophysics is and what she is doing https://idealspine.com/ 
More gender bending, or are the summer temperatures just too high? Some 30 boys have worn skirts to school in protest at being told they were not allowed to wear shorts. The pupils from ISCA Academy in Exeter asked permission to modify their uniform because of the hot weather. They were denied, so they protested by wearing skirts to school, just like the girls!
Why not Dance, too? Male bus drivers in France don skirts for a day to win right to wear shorts in super hot summer weather!
---
Join RSB in Curacao!!! Promo code RB0700 gets you $300 off!
---
Remember friends, the power to heal, is yours!
---
Cancer Prevention Convention 2017, Sunday, August 27, 2017, 9:00 AM – 7:00 PM EDT Detroit, Michigan.
Food as Medicine Curacao September 17-23, 2017 with Dr. Sunil Pai and RSB! An all-inclusive healing resort with organic cuisine! Special savings code: RB0700, Save $300 if you sign up before June 30! Save $200 if you sign up before July 29! No money is due until August 10 so sign up even if you are just considering attending!
The Truth About Cancer LIVE 2017, October 5-7, 2017, Orlando, Florida! Sign up now! It will sell out!
Stay tuned as the calendar is updated for more exciting events and opportunities to meet RSB!
---