Smoking without smoking, Curing diabetes with nothing, Echo water, Molecular hydrogen science, Arnold the girlie-man, Brian Hooker PhD, Roundup on glyphosate, Colin Kaepernick Nike and MORE!
Oct 12, 2018 7-9PM ET
Friday on The Robert Scott Bell Show:
Damned If You Do – Damned If You Don't?
Not a smoker? Doesn't matter, because the SAME DEADLY CHEMICALS in cigarettes are also found inconventional food, medicine, and personal care products Non-smokers tend to look down on smokers, thinking "they're doing it to themselves" by poisoning their bodies unnecessarily, knowing good and well that the boatload of chemicals in commercial cigarettes are burning up the tissue in their lungs, robbing their system of nutrients, and inviting cancer cells to develop. Well, guess what? Attention all non-smokers… if you're not eating mostly organic food, filtering your water, using natural medicine, and using organic personal care products, then you yourself are consuming, ingesting, digesting, and suffering from many of the same chemicals that are purposely embedded in cancer sticks. It's time to wake up and "smell the coffee." First off, let's talk about the horrific toxins in cigarettes and why they're allowed to be manufactured that way. Ammonia is used to freebase the tobacco leaves so the nicotine is converted into a vapor-ready form that hits the heart and brain inside of 3 seconds. Exposure to ammonia causes coughing and irritates the nose and throat, eventually causing irreversible damage to the very soft epithelial tissue inside the windpipe and lungs. Cancer cells are prone to attack weakened tissue that's been chronically damaged over time. That ammonia is also why second-hand cigarette smoke burns your eyes, because some of it is still present in the exhaled smoke.
Curing Diabetes With – Nothing?
Type two diabetics cured by fasting, say researchers Planned fasting may help reverse type two diabetes, and cut out need for insulin while controlling blood glucose, doctors suggest. Three men aged between 40 and 67 tried out planned intermittent fasting to see if it might ease their symptoms. They were taking various drugs to control their disease as well as daily units of insulin. In addition to diabetes, they all had high blood pressure and high cholesterol. Two of them fasted on alternate days for a full 24 hours, while the third fasted for three days a week. On fast days, they were allowed to drink very low calorie drinks, such as tea and coffee, water or broth, and to eat one very low calorie meal in the evening. Before embarking on their regime, they all attended a nutritional training seminar. They stuck to this pattern for around 10 months after which fasting blood glucose, average blood glucose, weight, and waist circumference were remeasured. All three were able to stop injecting themselves with insulin within a month of starting fasting. In one case this took only five days, according to the report in 'BMJ Case Reports'.
Molecular Hydrogen SCIENCE!
H
ydrogen rich water may have great potential in the treatment of Multiple sclerosis. Multiple sclerosis (MS) is a chronic autoimmune demyelinating disease of the central nervous system (CNS). The high costs, inconvenient administration, and side effects of current Food and Drug Administration (FDA)-approved drugs often lead to poor adherence to the long-term treatment of MS. Molecular hydrogen (H2) has been reported to exhibit anti-oxidant, anti-apoptotic, anti-inflammatory, anti-allergy, and anti-cancer effects. In the present study, we explored the prophylactic and therapeutic effects of hydrogen-rich water (HRW) on the progress of experimental autoimmune encephalomyelitis (EAE), the animal model for MS. We found that prophylactic administration of both 0.36mM and 0.89mM HRW was able to delay EAE onset and reduce maximum clinical scores. Moreover, 0.89mM HRW also reduced disease severity, CNS infiltration, and demyelination when administered after the onset of disease. Furthermore, HRW treatment prevented infiltration of CD4(+) T lymphocytes into the CNS and inhibited Th17 cell development without affecting Th1 cell populations. Because HRW is non-toxic, inexpensive, easily administered, and can readily cross the blood-brain barrier, our experiments suggest that HRW may have great potential in the treatment of MS.
Hydrogen-rich pure water acts as an anti-oxidant in the brain Hydrogen is an established anti-oxidant that prevents acute oxidative stress. To clarify the mechanism of hydrogen's effect in the brain, we administered hydrogen-rich pure water (H(2)) to senescence marker protein-30 (SMP30)/gluconolactonase (GNL) knockout (KO) mice, which cannot synthesize vitamin C (VC), also a well-known anti-oxidant. These KO mice were divided into three groups; recipients of H(2), VC, or pure water (H(2)O), administered for 33 days. VC levels in H(2) and H(2)O groups were<6% of those in the VC group. Subsequently, superoxide formation during hypoxia-reoxygenation treatment of brain slices from these groups was estimated by a real-time biography imaging system, which models living brain tissues, with Lucigenin used as chemiluminescence probe for superoxide. A significant 27.2% less superoxide formed in the H(2) group subjected to ischemia-reperfusion than in the H(2)O group. Thus hydrogen-rich pure water acts as an anti-oxidant in the brain slices and prevents superoxide formation.
Inhibition of streptococcal biofilm by hydrogen water OBJECTIVES: The accumulation of oral bacterial biofilm is the main etiological factor of oral diseases. Recently, electrolyzed hydrogen-rich water (H-water) has been shown to act as an effective antioxidant by reducing oxidative stress. In addition to this general health benefit, H-water has antibacterial activity for disease-associated oral bacteria. However, little is known about the effect of H-water on oral bacterial biofilm. The objective of this study was to confirm the effect of H-water on streptococcal biofilm formation. METHODS: In vitro streptococcal biofilm was quantified using crystal violet staining after culture on a polystyrene plate. The effect of H-water on the expression of genes involved in insoluble glucan synthesis and glucan binding, which are critical steps for oral biofilm formation, was evaluated in MS. In addition, we compared the number of salivary streptococci after oral rinse with H-water and that with control tap water. Salivary streptococci were quantified by counting viable colonies on Mitis Salivarius agar-bacitracin. RESULTS: Our data showed that H-water caused a significant decrease in in vitro streptococcal biofilm formation. The expression level of the mRNA of glucosyltransferases (gtfB, gtfc, and gtfI) and glucan-binding proteins (gbpC, dblB) were decreased remarkably in MS after H-water exposure for 60s. Furthermore, oral rinse with H-water for 1 week led to significantly fewer salivary streptococci than did that with control tap water.
Drinking hydrogen-rich water may protect healthy individuals from gastric damage caused by oxidative stress BACKGROUND: Hydrogen has been reported to relieve damage in many disease models, and is a potential additive in drinking water to provide protective effects for patients as several clinical studies revealed. However, the absence of a dose-response relationship in the application of hydrogen is puzzling. We attempted to identify the dose-response relationship of hydrogen in alkaline electrolyzed drinking water through the aspirin induced gastric injury model. METHODS: In this study, hydrogen-rich alkaline water was obtained by adding H2 to electrolyzed water at one atmosphere pressure. After 2 weeks of drinking, we detected the gastric mucosal damage together with MPO, MDA and 8-OHdG in rat aspirin induced gastric injury model. RESULTS: Hydrogen-dose dependent inhibition was observed in stomach mucosal. Under pH 8.5, 0.07, 0.22 and 0.84 ppm hydrogen exhibited a high correlation with inhibitory effects showed by erosion area, MPO activity and MDA content in the stomach. Gastric histology also demonstrated the inhibition of damage by hydrogen-rich alkaline water. However, 8-OHdG level in serum did not havesignificant hydrogen-dose dependent effect. pH 9.5 showed higher but not significant inhibitory response compared with pH 8.5.
Stop Being A Girlie Man, Arnold…
Arnold Schwarzenegger Regrets 'Girlie Men' Insults, 'Better to Not Say That' Arnold Schwarzenegger says he shouldn't have used the words "girlie man" to insult his political rivals — saying, "In the long term, it's better to not say that." The former California governor famously used the term at the 2004 Republican National Convention –saying, "And to those critics who are so pessimistic about our economy, I say, don't be economic girlie man!" At the time, the comments were met with thunderous applause from politicians like Rudy Giuliani and Dick Cheney (both gave Arnold a standing ovation). But now, Arnold tells Men's Health he wishes he didn't use the term — but not because it's offensive to women or effeminate men …  "I called them girlie men because they weren't willing to take risks," Arnold said … "They were afraid of everything." "Politicians in general want to do little things so there's no risk involved. But it was shortsighted. In the long term, it's better to not say that, because you want to work with them."
---
ENCORE Hour 2 – Special Guest Brian Hooker PhD
Dr. Hooker is the father of a vaccine-injured child, and is a Ph.D. researcher. He has fought against the CDC for more than 14 years, using the Freedom of Information Act to try and gather as much data as he could from the studies that the CDC has published that claim there is no link between vaccines and autism. He has submitted much of the results of his own internal investigation of the CDC data on vaccines and autism to Congress. Congressman Bill Posey has assisted him in forcing the CDC to comply with many of these requests.
Rounding up Glyphosate The pesticide glyphosate, also known by its trade name Round-Up®, has been in the news recently due to a lawsuit filed against agriculture giant Monsanto by a school district employee who developed non-Hodgkin's lymphoma while using glyphosate weed killer as a part of his work. The plaintiff in the case, DeWayne Johnson, was recently awarded $289.2 million in damages from Monsanto, including a $250 million penalty against the company for punitive damages. This is a huge victory for the plaintiff and his legal team, which included Robert F. Kennedy, Jr., who has contributed much to the debate surrounding environmental causes of chronic illness and neurodevelopmental disorders, including autism. An estimated additional 4000 cases have been filed in U.S. courts claiming that exposure to glyphosate has caused non-Hodgkin's lymphoma.
Glyphosate, the active ingredient in the weed killer Round-Up®, is the most widely produced herbicide in the world today.
Glyphosate, the active ingredient in the weed killer Round-Up®, is the most widely produced herbicide in the world today. The compound has an analogous structure to the amino acid glycine, which is a common building block for large, physiologically relevant proteins in nature. Glyphosate was originally purported for use as an herbicide because it inhibits growth and metabolism by disrupting biochemical pathways in plants – pathways that do not exist in humans or other animals. For that reason, scientists hypothesized that it would not be toxic to humans, but instead would kill plants and plants alone.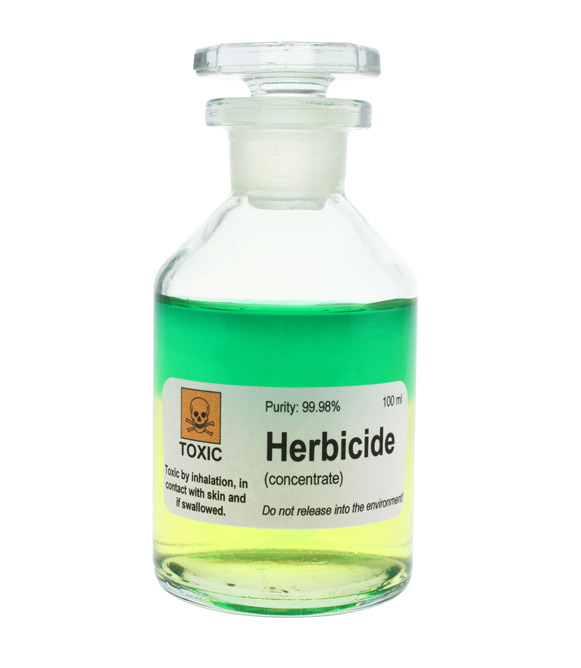 The key feature that enhanced the commercial appeal of glyphosate was the advent of genetically modified crop plants, such as Round-Up Ready® corn and soybeans, which were introduced in the U.S. in 1996. These crops are engineered to resist the effects of glyphosate and are able to grow in its presence. In this manner, glyphosate can be sprayed liberally on these crops for weed control without damaging the crop itself.
Today, glyphosate-tolerant crops include varieties of corn, soybeans, cotton, canola, sugar beet and alfalfa, among others. Over 90% of all soybeans and over 70% of all corn grown in the U.S. are genetically modified, with the majority of these plants specifically possessing glyphosate tolerance. These crops may be treated with much higher levels of glyphosate than those that predate the introduction of genetically modified organisms (GMOs) and consequently, people are being exposed to this herbicide through the food supply. Other non-GMO crops such as oats and wheat are also sprayed with glyphosate to cause the plants to dry faster for harvesting.
Weekend Is Football Time!
Eagles' Winning NFL Kickoff Game Falls To 9-Year Viewership Low The final numbers of the first official game of the NFL's new season are in and the league and NBC looked to have been drenched by more than the rain that delayed the Eagles and Atlanta Falcons match-up in Philadelphia last night. Snagging 19 million viewers on the Comcast-owned network, the late starting Eagles winning kickoff game fell 13% in broadcast audience from last year's NFL opener with the New England Patriots and the victorious Kansas City Chiefs. That's another year of straight double digit decline for the NFL and NBC. With last years opener holding the previous record, the 2018 battle in Philly is also the worst any kickoff game has done since 2009. In fast affiliates, the season opener drew a 6.6/27 among adults 18-49. A drop of 14% from the final demo numbers of the September 7, 2017 game.
---
---
---
Remember Friends, The Power to Heal is Yours!
---
More upcoming RSB events:
2018 27TH ANNUAL IAACN SCIENTIFIC SYMPOSIUM "Infectious Disease: The Influence of Clinical Nutrition on Outcome" October 11-13, 2018 Dallas, Texas
International Integrative Healthcare and Holistic Iridology Congress Oct 19-22 2018 Orlando FL
Stay tuned as the calendar is updated for more exciting events and opportunities to meet RSB!
Gut Health & Use of Silver for Immune Support Tuesday, October 23, 2018 at 6:00 PM, Peggy's Natural Foods in Stuart, Florida at 6PM Eastern Time
How To Have A Healthy Gut And Support Your Immune System Naturally, Wednesday, October 24, 2018 at Tunie's in Coral Springs, Florida at 6PM Eastern Time
Total Health '19 Toronto Canada April 12-14, 2019!
---